Success on display: Deploying electronic shelf labels on Aruba's secure wireless platform
Network as an IoT Platform
Influencing customer behavior in real-time is a long-standing objective of retailers because it directly impacts basket size, sentiment, and loyalty. Long an elusive goal, the behavioral impact is now achievable in no small part because of electronic shelf labels (ESLs). ESLs provide bi-directional interactions between shoppers and back-office real-time pricing, inventory, and advertising engines. Combined with knowledge of location and identity, ESLs allow stores to contextually adapt to, and influence, shopper behavior.
Robust ESL operation is business-critical. Regulations mandate consistency between ESLs and point-of-sale system pricing. Additionally, targeted marketing programs only work if delivered to the right shoppers in the right context. These requirements put a spotlight on the reliability of ESLs and the infrastructure that supports them. Hardwired ESLs would be prohibitively expensive, both because of the initial cost of pulling cables and rewiring during store churn. Dedicated ESL wireless would also be expensive, and risks interfering with a store's RFID and Wi-Fi infrastructure. Leveraging a store's existing Wi-Fi access points for ESL communications is the most efficacious solution, however, the critical role of ESLs sets the bar high for the robustness of that wireless network.
Aruba's 802.11ax Access Points converge front- and back-end of store connectivity needs with high-speed wireless Internet access. With their built-in IoT radios and support for external USB adapters, Aruba access points can serve as platforms for a broad range of IoT devices including ESLs, mobile printing, gunshot detectors, lighting, refrigeration monitoring, presence detection, air quality sensing, and asset tracking.
Why SOLUM and Aruba?
Enhances the shopping experience with interactive tags in the shelf, wearable, and article label form factors
Aruba solutions are compatible with existing solutions of SOLUM
Eliminates the cost of deploying ESL RF gateways with additional PoE equipment and ethernet cable
Certified interoperability across product portfolios
Simple set-up and adds/moves/changes
Easily retrofits to Aruba 802.11ax and 802.11ac deployments via USB adapter
Direct support escalation between SoluM and Aruba ensures faster problem resolution to the root cause
Extends the joint solution for various areas such as smart office, meeting room, reservation table, hospital, hotel, and so on.
"We're 100% committed to giving entrepreneurs high-end ESL solutions through our services. With Aruba acknowledging our products, we have accomplished a real milestone and we want to strengthen the collaboration further in the near future." Steve Jun. Business Development Manager, SOLUM Group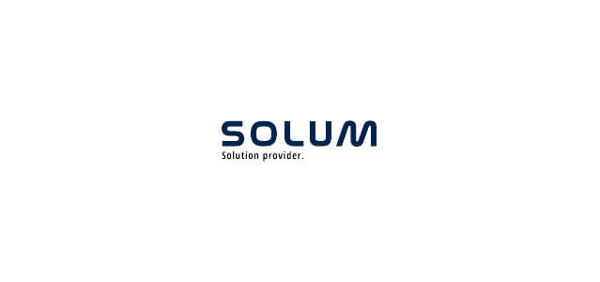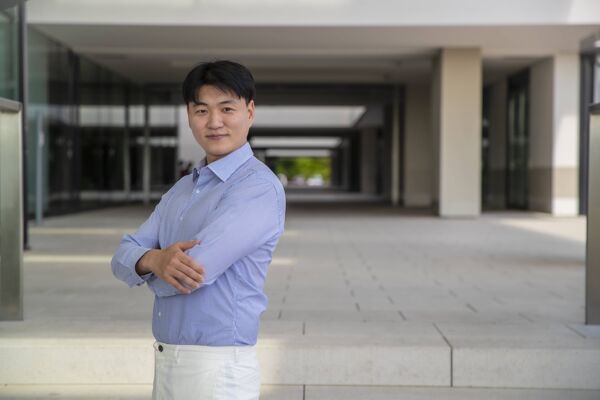 All-In-One Communication Platform
ESLs provide bi-directional interactions between shoppers and back-office real-time pricing, inventory, and advertising engines. Combined with knowledge of location and identity, ESLs allow stores to contextually adapt to, and influence, shopper behavior. SOLUM (originally Samsung Electro-Mechanics), one of the world's largest ESL providers, and Aruba have partnered to ensure that ESLs can be economically, reliably, and securely deployed. The joint solution works in conjunction with the retailer's Aruba access points and is designed for applications of all sizes – from branch stores to big-box retailers. In addition, the solution can be applied to various areas such as desk tags for smart offices, name tags for lockers, signage for meeting rooms, and so on.
Aruba's networks have been field-proven in the most demanding retail deployments, and deliver the robustness and reliability needed for business-critical ESL, data, geolocation, voice, video, and IoT services. Network security is best-in-class and PCI compliant. The joint solution uses the infrastructure of Aruba access points already deployed in the store. Specifically, SOLUM USB Gateway (GW) utilizes the network technology using Ethernet over USB and USB power from the USB port of the Aruba access point. A SOLUM ESL USB GW inserted into the access point's USB port handles all ESL communications by directly communicating with SOLUM ESL Server.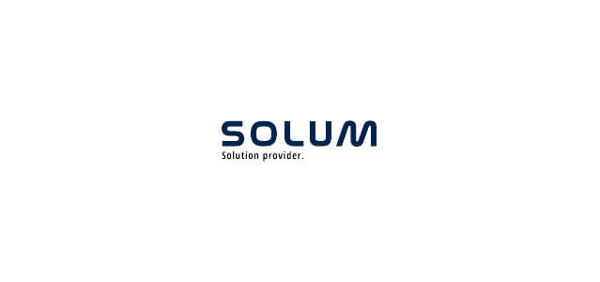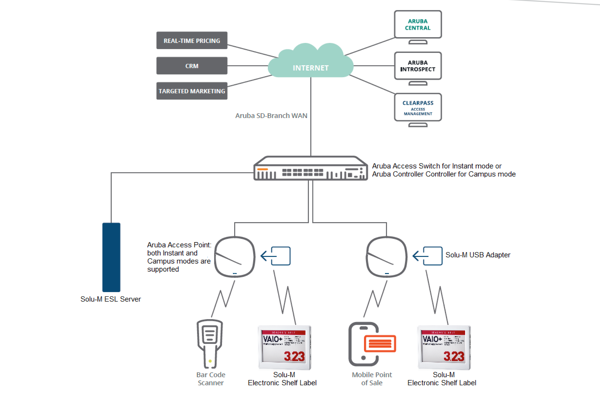 From the distinct characteristic that the SOLUM system and Aruba Access point operate independently in the viewpoint of network technology, customers can assign an independent IP address to SOLUM USB GW by using a DHCP server or a static one. It enables customers to add, move, and change SOLUM USB GWs to any access points without additional configuration.
In addition, the Aruba access point supports two functions.
One is to forcibly reboot SOLUM USB GW for solving unintended problems.
The other is to show the IP address of SOLUM USB GW, which is very useful for debugging.
Unique Value Propositions
Once deployed, the Aruba and Solu-M system can be remotely updated and will communicate in real-time with pricing, CRM, marketing, and loyalty applications, without physically accessing the labels. Key benefits include:
Pricing automation allows tag updates in seconds.
Interactive tags include lights and switches to better connect with shoppers and deliver targeted messaging.
Near-field communications allow new services such as the point-of-product purchase.
Tags can identify out-of-date inventory to improve store efficiency and regulatory compliance.
Certified Interoperability
We've taken the guesswork out of deployments by certifying the interoperability of SOLUM ESLs with Aruba infrastructure. Set-up is also a breeze. If the function for ethernet over USB on the configuration of the Aruba system is enabled, SOLUM USB GW can be used, managed and controlled as the original ESL RF gateway. Customers who have experienced SOLUM products can easily use the new solution without any further knowledge. In addition, joint deployments go in faster and are easier to maintain.
Summary
Aruba's secure platform is the ideal way to support electronic shelf labels and deliver the benefits of an intelligent store, in retail applications of any size. Additionally, the joint solution can be universally applicable to any place such as smart offices, meeting rooms, and hotels. Contact your local sales representative to see how together Aruba and SOLUM deliver the most cost-effective, centrally managed ESL solutions in the industry.