SOLUM and Cisco Collaboration Takes Retail Management to the Next Level
The integrated solution consists of Cisco Catalyst access points and SOLUM's ESL offering.
SOLUM Electronic Shelf Labels, one of the world's leading ESL providers, and Cisco, the worldwide leader in technology that powers the internet, have co-developed an integrated solution that ensures the latest lineup of ESLs by SOLUM will be economically, reliably, and securely deployed.
The integrated solution consists of Cisco Catalyst access points and SOLUM's ESL offering. The solution eliminates the need for an IoT overlay network, simplifying deployment and management, as well as reducing overall hardware and installation costs.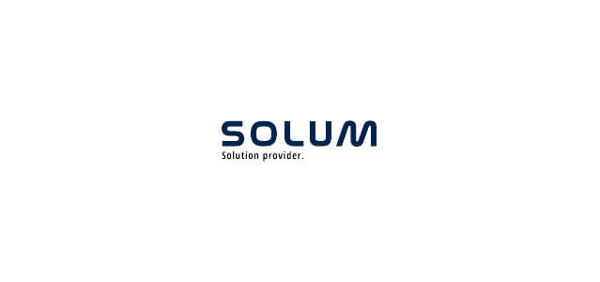 The co-developed solution is also applicable to various industries by serving as digital labels for smart offices, lockers, and meeting rooms.
"We chose to partner with Cisco because the Catalyst access points are proven, reliable, secure and robust with capability to deliver data, geolocation, voice, video, and IoT services effectively in the most demanding retail deployments. " - Steve Jun, Business Development Manager, SOLUM
How It Works
The SOLUM USB Gateway (GW) utilizes USB power and connectivity from the USB port of the Cisco access point . The USB GW inserted into the access point's USB port manages the ESL transmissions by directly communicating with the ESL Server.
As an integrated solution, the SOLUM USB GW uses the same IP address as the Cisco access point, allowing it to work as a single unit. The access point can also segment traffic from the SOLUM USB GW into a separate VLAN for security purposes.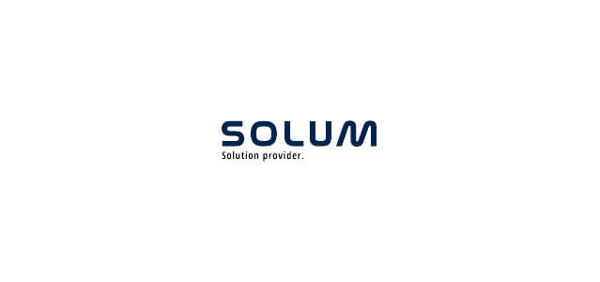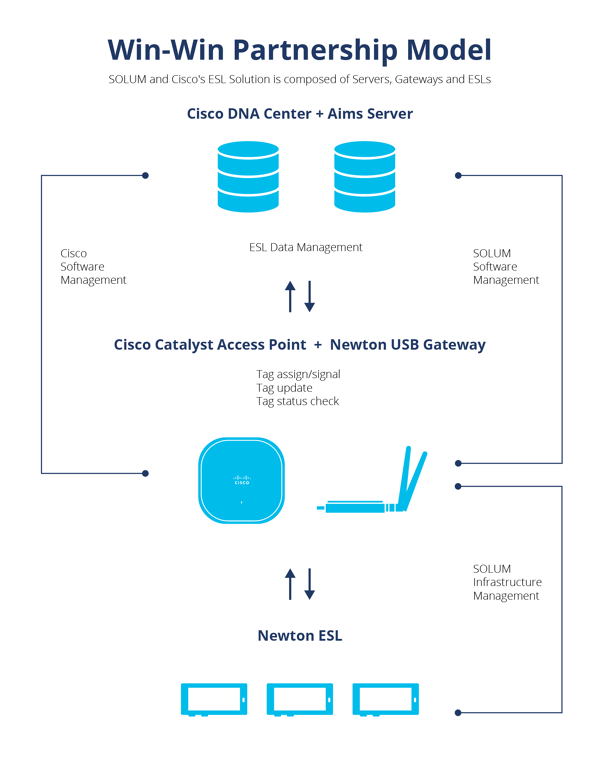 Why Go for SOLUM and Cisco?
The SOLUM-Cisco solution enables users to update pricing, CRM, marketing, and loyalty applications in real-time without physically accessing the labels, using a single integrated solution. Key benefits include:
Cisco DNA Center makes it easy to deploy, upgrade, and reload the software.
Deploying is easy through the Cisco DNA Center. Simply upload the application, select an access point to connect the app to, and it is now IoT ready.
Cisco DNA Center provides error logs so IT can identify issues and solve them faster.
Security (data segmentation) with the application can separate the access point's management VLAN from the ESL's IoT VLAN.
SOLUM is faster than competing solutions with fast and reliable updates in seconds.
About Cisco
Cisco (NASDAQ: CSCO) is the worldwide leader in technology that powers the Internet. Cisco inspires new possibilities by reimagining your applications, securing your data, transforming your infrastructure, and empowering your teams for a global and inclusive future. Discover more on The Network and follow us on Twitter.
About SOLUM
Originally a spinoff company of Samsung, SOLUM is backed with 45 years of wireless communication technology and device experience. And for the last 10 years, SOLUM has been constantly developing new solutions, making several improvements in quality and adding additional features to the ESL. Thus, the newest innovative ESL solution was born.
We want to advocate the transfer towards a digital, more connected structure for businesses. It's not simply about presenting tech-savvy display shelves to customers. Ultimately, our vision is for retailers to experience what ESLs can bring to the table that no other piece of technology can: a systematic improvement on a more comprehensive, long-standing scale. We'd like to introduce you to the newest breed of ESLs.
Follow us on our social media channels to keep updated with all the new developments of #SOLUM in 2021!
Facebook – www.facebook.com/solumesl
LinkedIn – www.linkedin.com/company/solumesl
Twitter – www.twitter.com/solumesl
Instagram – www.instagram.com/solumglobal
YouTube – www.youtube.com/c/solumglobal
For further information about our ESL solutions, please contact:
Stefan Voelkel, Vice President of Sales , SOLUM Europe, tel.: +49 (0) 162 296 3186, [email protected]
Hyojin Lee, Director Sales EMEA & Industrial, SOLUM Europe, tel.: +49 (0) 170 9166857, [email protected]
John Revie, Senior Vice President of Sales, SOLUM America, tel.: +1-201-210-8360, [email protected]
All product and company names herein may be trademarks of their registered owners.